Meet ATRAC: the Belgian STAS distributor
ATRAC, a vibrant company since 1990, has a great team on board of 23 industrious workers and 9 energetic office workers. We sat down with Sally Beekwee, Administration & Marketing Expert and Henri Demeestere, Sales Expert at ATRAC.
ATRAC in the Belgian market
ATRAC is an authorised STAS partner within Flanders, Belgium, and is active in sales of brand new STAS vehicles, second-hand and stock vehicles, rental of walking floor trailers and tipping trailers, quality repairs and spare parts sales.
Henri Demeestere, sales expert: "The Belgian market is quite unique. We have a long history in the agricultural industry, just think of flax, potatoes, sugar beet, fruit and livestock. We have firmly established ourselves as a reliable partner in the agricultural industry and feel closely linked to agriculture. Our most popular tipping trailer is the Agrostar: a high-quality aluminium volume tipper for the agro segment that can be used very flexibly. It is a strong but lightweight tipping trailer, ideal for transporting agricultural products."
"In Europe, and more specifically in Belgium, we are forced to focus on circular economy, reusing raw materials." Henri clarifies, "They say Belgians are born with a brick in their stomach: it means that they are constantly building, rebuilding and mining. And this is true, because this ensures that both the construction and recycling segments go hand in hand, and for STAS both segments have growing potential. Within the Belgian market, we are the market leader in both tipping trailers and moving floor trailers with a strong focus on aluminium volume tippers."
Specialised options and customisation
"By offering specialised options to suit our customer's needs, we at ATRAC can customise each STAS semi-trailer," Sally explains. "For example, a stainless-steel floor, bolt-on trough, insulation, liners, sealing side protection, ... This allows each customer to achieve optimal efficiency with their STAS vehicle."
"When at our front desk, we hear from a driver that it's a pleasure to drive their STAS vehicle, our mission is accomplished. 100% satisfied customers, that's what we go for!" says Sally.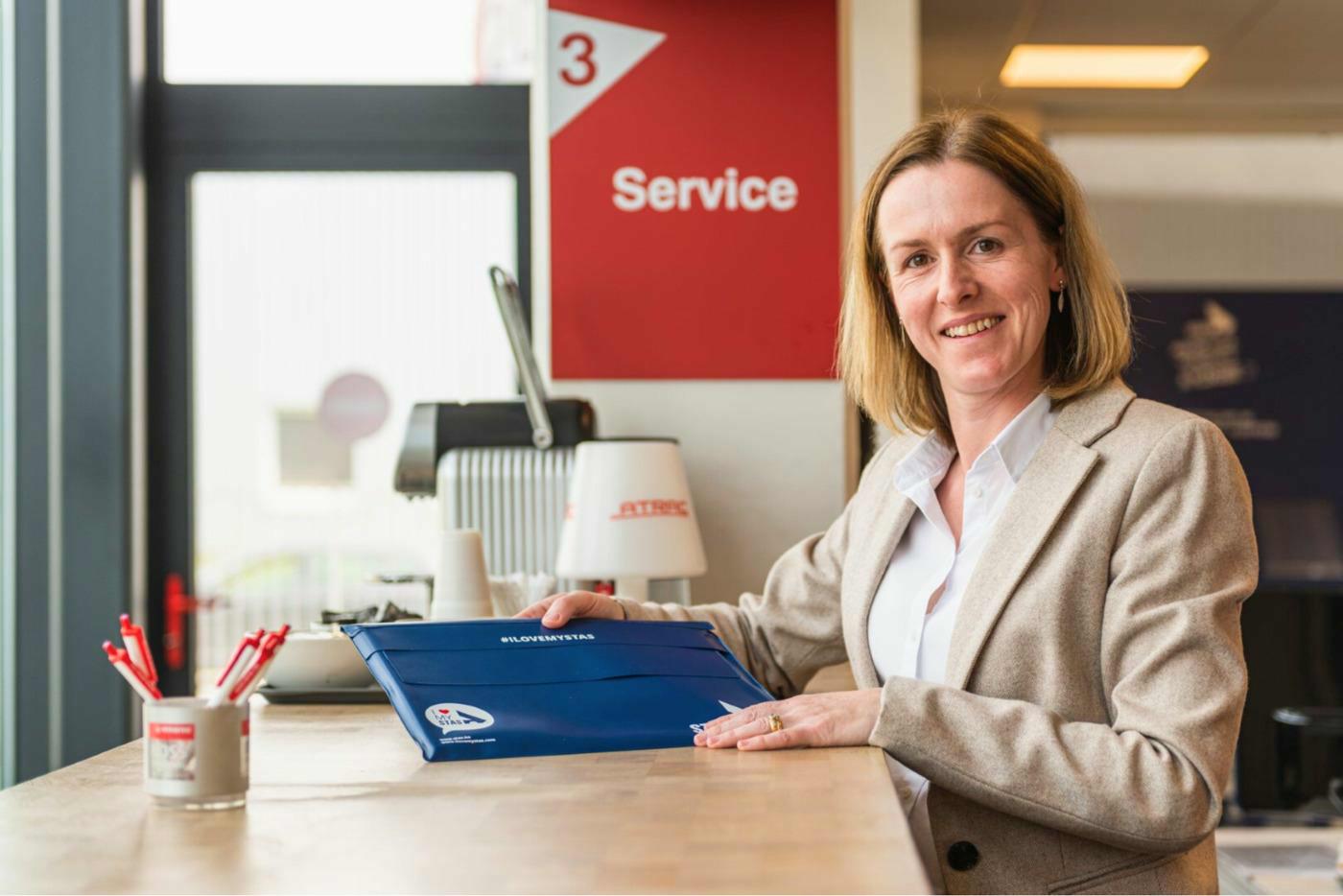 Rental
"We have a sizeable fleet of around 80 vehicles of which 50 are tipping trailers and 30 are walking floor trailers" Sally mentions. "Among tippers, we have both construction and volume tippers on offer. Nice to know is that each of our rental vehicles is named after a female employee, partner or child of one of the colleagues at ATRAC or STAS."
The rental fleet is used for a variety of reasons: for seasonal transport, quickly scaling up trailer capacity at the customer's premises, or when the repairs need to be made and the repair period needs to be bridged with a rental trailer. ATRAC can smoothly perform entry and exit checks on rental vehicles thanks to the handy rental app. Via this tool, photos are taken on departure and return of the vehicles and damage can be checked without any problems. In addition, the vehicles undergo regular maintenance ensuring they are always in top condition. Click here to learn more about the ATRAC rental fleet.
Repairs
ATRAC is unique in its repairs. Sally clarifies, "We have a strong and dynamic team that can deal with any issue. We work with motivated people who have a lot of knowledge and experience, both in our workshop and in the office, and those people have the right mentality to move mountains. So, our customers always get the right service."
Sally continues, "The repairs we offer are very diverse: from replacing hoops or tarpaulins to renewing entire wear plates or sidewalls, as well as following up damage cases from start to finish. We strongly recommend bringing a walking floor trailer in annually for full maintenance where we thoroughly inspect the oil filter and moving floor system. We also recommend annual maintenance for lubricating the tipping axle and tipping cylinder for tipping trailers. It's a small effort but it can prevent downtime of your vehicle allowing our customers to get the most out of their vehicles and significantly extend their life."
Spare parts
Besides repairs, ATRAC also provides spare parts for STAS tipping trailers and walking floor trailers. "If you are looking for spare parts, you can download the spare parts catalogue from the ATRAC website. There you can request a login for the parts webshop so you can easily order parts. The most requested spare parts are hoops for tipping trailers and walking floor trailers. These often get damaged when loading trailers," Sally testifies.