Three generations of STAS
Did you know the name STAS actually comes from the small village of Stasegem? That's the location where everything started in the early years of the 20th century. But let's go back to the year of 1899 when we meet Jan Heyse, who's a blacksmith in Aarsele and has 2 sons: Urbain and Leon Heyse. In 1934 they moved to Stasegem and shoed horses and repaired wheels of carts. As times evolved and the transportation industry switched from horses to motorised vehicles, the brothers went with the times and switched to making trailers. The ambitious brothers kept innovating their range and started manufacturing agricultural vehicles and went on to produce the very first STAS trailers.
In the 1960s Willy Heyse and his wife Lydie took over and in 1974 they relocated the company to Waregem as they needed more space to grow. STAS's headquarters remain in Waregem to this day and at the start of 2023 STAS moved to their brand-new office building at E17 exit in Waregem. STAS started producing trailers out of aluminium and further diversified the STAS range as the company manufactured customised trailers. This is also where the first steps were made in incorporating automated machines into the production process.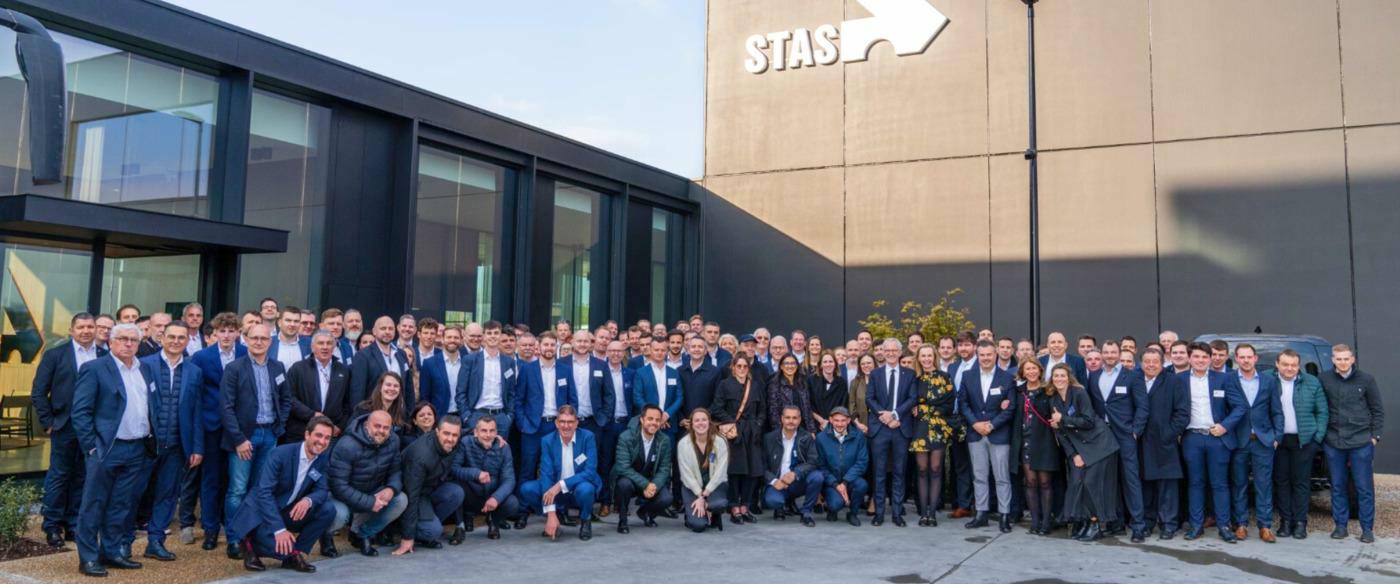 Around the 1990s, their son Francis Heyse veered the company towards a specialisation in tippers and moving floor trailers. The dealer network started its expansion to over 40 certified STAS dealers in over 20 countries across Europe. Production was ramped up significantly due to automation without compromising on thorough craftsmanship and product excellence. The design of the STAS trailers was further refined to excel in design and user comfort.
STAS, a third-generation family company, currently produces steel and aluminium tippers and moving floor trailers in 4 factories: Waregem (Belgium), Tournai (Belgium), Freudenberg (Germany) and Medías (Romania). Together these factories employ over 500 employees and produce a yearly average of 1.800 tippers and 900 moving floor trailers.
Long-Term Pleasure
The history of STAS reflects significant growth, but also underlines the baseline: 'Long-Term Pleasure'. It summarises what matters to us most: sustainability in terms of trailers, people, and the planet. STAS puts everything in motion to achieve the most sustainable tippers and moving floor trailers on the market and to make the transport sector green, in a sustainable way while putting our people first.
People
STAS is a family-owned company and thus has family values at its core. Everyone is treated with respect, and each situation is approached with a positive can-do attitude. We encourage initiative and thrive on efficiency. We value the engagement of the employees and do everything in our power to maximise it.
Furthermore, STAS is no ordinary company. We have an agile structure to be flexible within a VUCA world. STAS employees are experts in what they do and deserve autonomy in their work and full decision-making power. Each employee has a personal supporter who supports them and challenges them in their work and private life.
Our extensive dealer network is another testament to the fact that people are at the core of the company strategy. STAS is committed to building a strong and extensive network of dealers. This means each European country where STAS operates, has a first-class dealer. They provide our customers with the very best support in their own language. That's how we're delivering world-class service to our customers.
People are at the heart of STAS. That's why we empower them so they and STAS can thrive.
Want to know more? Have a look at the People-themed blog posts.
Product
STAS is a strong and stable organisation and an established player in the sector. Our engineers are emboldened to work towards the optimal strong/light construction of our tippers and moving floor trailers. While they are perfecting the design that ensures a safe and stable driving experience for all those who meet STAS trailers, they also perfect the stability of the trailers when driving and unloading. Each trailer is unique as numerous specialised options are available to customise your trailer to your wants, needs and type of transport. These functionalities augment the profitability and pleasantness of each drive.
STAS trailers are well known for their high resale value as they are very durable and enjoy a longer-than-usual lifecycle.
Want to know more? Check out our Product-related blog posts.
Planet
We aim to produce trailers with the longest possible longevity and manufacture them in a sustainable way. Our goal is to produce the world's most sustainable tippers & moving floor trailers and thus setting an example for other companies to follow. We couldn't possibly list all our sustainability projects and ambitions in this paragraph, so have a look at our full sustainability plan or our blog posts.
Curious to see how things are going behind the scenes? Follow STAS on Facebook, Instagram, YouTube, TikTok or LinkedIn! That way, we can keep you up to date about our news and you get the meet the ever-so-ambitious and passionate STAS employees.